Note that this Section is currently being written for the new format of the database.
All Sections shown in the Table of Contents on the right already exist in full.
This User Manual shows you how to input your loggings and notes and how to get the most information from the database.
It goes through each of the main menus in order:
Searches
Registers
Multi Criteria Search
Logging / Statistics
Diagnostics & Maintenance
Code Look-ups
Editor Area
Note that the screenshots also show extra lines and facilities that are only used by Editors to input new and updated information.
Searches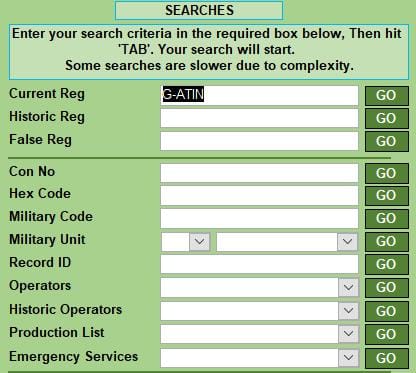 You have the option of using the TAB key or selecting GO to run a search.
1.1.1 Current Reg
Search by the Current Registration.
If it is found, the top line is displayed
This shows the Registration, Type, Construction Number (C/N), Operator and Hex (Hexadecimal) Code.
Note that the Operator, not the owner, is shown – these can differ e.g. many airliners are owned by leasing companies, some airline services are flown by other companies on their behalf.
The Hex code is the code used by tracking systems and which uniquely identifies a registration. This will change if the aircraft's registration is changed.
Two codes are given – F and R.
F signifies that you have logged the airframe.
R signifies that you have logged it under its current (now) registration. Therefore, if only F is shown, you logged the airframe under a previous registration.


An extremely useful visual indication of F and R is shown by the whole line being highlighted in green if you have seen the aircraft with its current registration on, or in yellow if you have only seen it with a previous registration on.

The number of Frames and number of them logged is also shown – this is useful where the registration has been applied across a number of different aircraft.
[An additional, 'Edit', column/link is included on database Editors' screen.]

The Reg is underlined (hyperlinked). If you click on this the basic aircraft information page is presented. This is discussed below.
BASIC SCREEN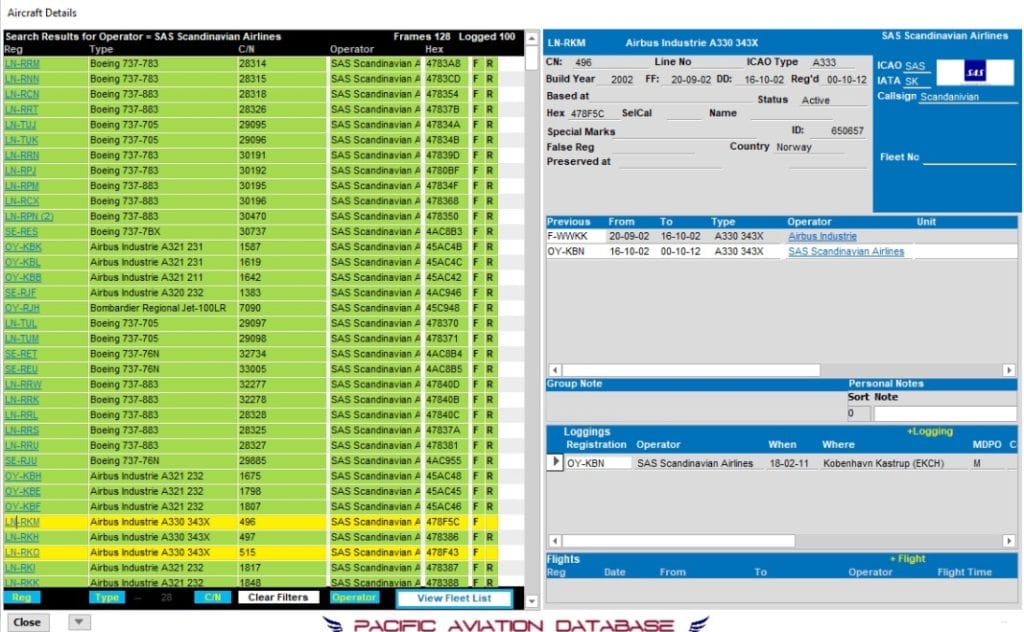 NOTE CAN CHANGE/USE OWN NAMES FOR OPERATORS HERE


If the registration is not found to be current, the following dialogue box appears.
Select the appropriate option.
Try Search Historic Regs (Registrations) to see if it has been reregistered.
Note that if you have logged it with any of its registrations then it will show the F code and be highlighted in yellow, or in green if you have logged it in its current (now) registration and it will also show the R code – it may at first seem odd to see a historic registration that you haven't seen highlighted, but it is logical.
If the aircraft to be logged is neither current nor historic, it is new and can be added by selecting Add to log as outstanding.
1.1.2 Historic Reg
Search by a registration that you know to be no longer current.
1.1.3 False Reg
Search by a registration that you know to be a false one carried. Often on a vintage aircraft representing a specific aircraft from history.
1.1.4 Con No
Search by a manufacturer's/builder's unique construction number. Sometimes an aircraft may have more than one e.g. a Light Aircraft Association project number plus the home-builder's own personal number.
1.1.5 Hex Code
Search by a hex code seen on radar screens using tracking software.
1.1.6 Military Code
Search by a military code.
1.1.7 Military Unit
Search by a specific military unit operating an aircraft.
1.1.8 Record ID
Search by a specific Record ID entry in the database. Likely to be a infrequent search by an Editor.
1.1.9 Operators
Search by a current (now) operator. If not found then try a search on Historic Operators.
F = Frame seen
R= Registration logged
Listing Required Frames/Registrations
To get a listing of just the aircraft that you need:
If you right-click on the 'F' and select 'Filter Excluding Selection' you will see all your requireds.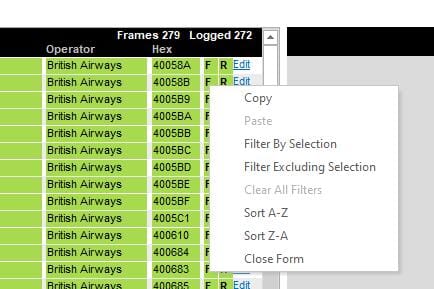 Alternatively you can right-click on a blank in the same column and select 'Filter By Selection' to get the same result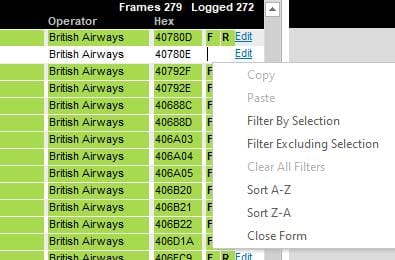 1.1.10 Historic Operators
Search by a historic operator. If not found then try a search on current (now) Operators.
1.1.11 Production List
1.1.12 Emergency Services
1.1.13 Location Search
1.1.14 Museums / W&Rs
1.1.15 Airfields
Airfield names are given in the form: Name (ICAO code) (IATA code) (Country Prefix) (County/State). The airfield names for the UK and Ireland are those used by LAAS International. 
Selecting an airfield takes you to the airfield page with a list of reported residents. Note that many residents may be missing as there is no officcial requirement for owners to declare where their aircraft are based. Residents are very prone to change.
Selecting 'Airfield Report' allows you to download a 'PDF' report of the page or to 'Print' the report.
Airfield Mapping
Selecting 'Airfield Report', then selecting the multicoloured teardrop Google Maps icon under the ICAO field, displays the airfield in Google Maps for airfields with co-ordinates shown in the Location field. Initially co-ordinates are provided for G-, EI-, M-, 2-, ZJ- airfields.


1.1.16 Unknowns
1.1.17 Unknowns (Historic)
1.1.18 Reservations
1.1.19 Group Notes